Join us for the Mindfulness at Work Summit
Discover the latest tools, techniques, and strategies in applying Mindfulness at Work from 56 leading experts.

Schedule & Presentations Details
Curious to know the Summit Topics and Session Titles? Scroll down for the full program outline.
Day 1 - Mindfulness at Work 
Dan Harris - How to Get Skeptics to Meditate
Rich Fernandez - How to Effectively Teach Mindfulness in Organizations
Melli O'Brien - Come to Your Senses: Finding Fulfillment in an Age of Distraction and Instant Gratification
Elisha Goldstein - How to Use the Power of Tribe to Make Mindfulness at Work More Effective
Caroline Welch - Presence, Prioritizing, Pacing and Pivoting: The 4Ps in the Workplace


Day 2 - Case Studies: Mindfulness in Action 
Peter Bostelmann - Mindfulness in Action at SAP
Manish Chopra - Mindful Leadership in Action: McKinsey & Co
Andy Lee - A Case Study: Mindfulness in Action at Aetna
Marvin Riley - Mindfulness in Action: EnPro – Becoming the Best Version of Yourself at Work
Katie Meyler - Leading with Compassion: Overcoming Impossible Odds


Day 3 - Leadership Development
Bill George - Mindfulness & Authentic Leadership in Today's Corporate America
Jacqueline Carter - Leading with Mindfulness, Selflessness, and Compassion
Paul Behrman - Bringing Your Whole Self to Leadership and to the Workplace
Richard Strozzi-Heckler - What is Embodied Leadership and Can it Serve Us at Work and in Society?
Wendy Palmer & Tiphani Palmer - Your Body is Your Mind
Mark Tercek & Jonathan Foust - We're On the Same Side! How Mindful Leaders Can Find Common Ground and Save the Planet


Day 4 - Workplace and Culture 
Dan Goleman - Mindfulness and the 12 Competencies of Emotional Intelligence
Sharon Salzberg - Real Love at Work - Is That a Real Thing?
Raj Sisodia - Is Capitalism the Solution or the Problem? Changing the World by Changing How We Do Business
Diana Chapman - How to Create a Conscious Company Culture
Lindsey Kugel - Simple Ways to Integrate Mindfulness into the Workplace
Brian Robertson - Holacracy: A Revolutionary Management Practice for a More Human Workplace


Day 5 - Science and Technology 
Dr. Dan Siegel - Aware: The Science and Practice of Presence
Judson Brewer, MD, PhD - Our Craving Minds: Why We Get Hooked and How Mindfulness Helps Us Break Bad Habits
Graeme Moffat, PhD - Neuroadaptive Technologies in Mindfulness, Research, and Brain Health
Nichol Bradford & Dr. Jeffery A. Martin - Can Technology Play a Role in Transformation?
Christopher Lyddy, PhD & Darren Good, PhD - The Science of Contemplative Management: Impacts and Integration of Mindfulness at Work


Day 6 - Mindfulness K12
Andres Gonzalez & Ali Smith - Replacing Detention with Meditation - A Case Study from Baltimore
Robert Thomas - The Future of Mindfulness in Education: Moving Toward a New Vision of Possibility
Daniela Labra Cardero - How a Small Non-profit Brought Mindfulness to 50,0000+ Teachers and a Nationwide Curricula in Mexico
Barnaby Spring - Mindfulness in Action: NYC Department of Education
Elan Gepner-Dales, Johane Ligonde-Nemorin, & Dr. Mario Santos - Creating an Invitational & Compelling Environment for School-wide Mindful Practice


Day 7 - Mindfulness Higher Ed
Rhonda Magee - Mindfulness and Transformative Education: Contemplative Teaching and Learning for Social Justice
Charles Lief - Mindfulness and Compassion in Action: Naropa University - America's First Mindful University
Reka Prasad - Bringing Mindfulness to Students of Color in Higher Education
Oliver Hill - Contemplative Practices in Higher Education in Ways That Honor Cultural and Philosophic Contexts
Michelle Chatman - Mindfulness in Action: Cultivating a Mindful Campus at the University of DC


Day 8 - How to Teach Mindfulness
Yael Shy - Generation Meditation: Mindfulness for Emerging Adults
Mark Coleman - The Power of Nature in Teaching Mindfulness
Dawa Tarchin-Phillips & Diana Winston - Teaching Mindfulness: Tools & Techniques to Transform Lives
Dr. Christopher Willard - Making Mindfulness Stick with Kids and Teens


Day 9 - Hot Topics 
Congressman Tim Ryan - Is the Dream of a Mindful Nation Over?
Ruth King - How to Grow Our Inner Capacity to Face Racial Ignorance and Relieve Distress
Robert Wright - How Evolution Shaped the Human Brain and Why Meditation and Buddhist Philosophy Can Lead to Enduring Happiness
Lama Tsultrim Allione - Discover Your Feminine Power
Dawa Tarchin-Phillips & Diana Winston - The Professionalization of Mindfulness: Contributions, Critics and Cultural Impact


Day 10 - Mindfulness+ 
Leo Babauta - Pushing Into Fear with Devotion & Purpose
Fleet Maull - Learning to Listen to the Gut: Cultivating Interoceptive Awareness for Geater Intuition
Larissa Carlson - Office-Friendly Mindful Movement and Breath Techniques
Loch Kelly - Effortless Mindfulness: The Revolutionary Next Stage of Mindfulness
Cara Bradley - Flow at Work: Feel Better and Perform Better
Benefits

You'll learn how mindfulness can help you become a better leader, transform your workplace, improve your team's health & performance, and feel more fulfilled at work. You'll discover the latest tools, techniques, and strategies from this diverse group of experts that have never been gathered together before.  We will learn:
✔   How to introduce Mindfulness at work and win over skeptics
✔   How to lead with focus, clarity, and authenticity
✔   How to increase productivity and wellness in the workplace
✔   How to create a collaborative, innovative, and empowering culture
✔   PLUS…the latest science, case studies, teaching mindfulness, mindful movement, mindfulness in K12 & mindfulness in Higher Ed
Sessions are filled with key takeaways, tips, and practices that you can apply immediately. 

Order the Encore of the
2018 Mindfulness at Work
Upgrade Package
The ENCORE VIDEO PLUS PACKAGE is available TODAY for only $297.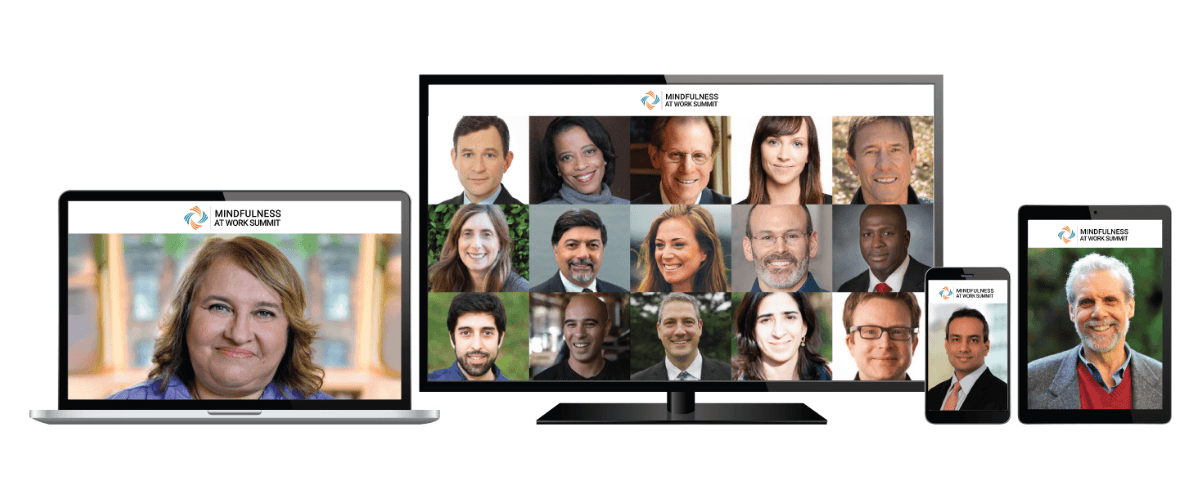 You will receive: 
Downloadable VIDEO and AUDIO of all 46+ Hours of Mindfulness at Work sessions
Streaming multi-device access to all sessions through our online eLearning portal
PDF Transcripts of each sessions to read and share with your team
PLUS - SPECIAL BONUS GIFTS with tools & resources from our Expert Speakers
Order Today for our best current price. 
Regular Price of $497
Limited Time Offer $297*
Please note that your Upgrade Package access information will be sent to you within 24 hours of processing your payment.



We put a great deal of effort into packing incredible value into this Course. We stand behind our work and unconditionally guarantee your satisfaction with your purchase. If you're not 100% satisfied simply email us within 30 days and we will give you a full refund.