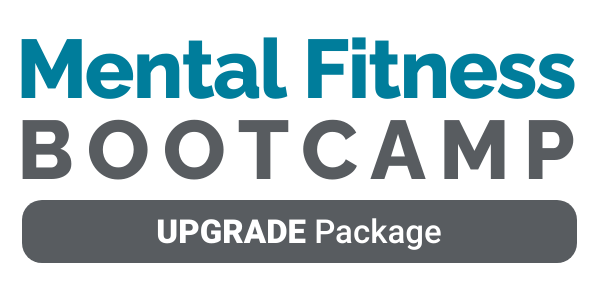 ✔  Downloadable or Stream Video & Audio
✔  Cross-train with 25+ Lessons & Exercises across 4 domains
✔  Customize your Mental Fitness Program

Learn from 25 + Expert Instructors in Neuroscience, Performance Psychology, and Resilience
Steven Kotler
New York Times Bestselling Author, Founder, the Flow Research Collective
Cara Bradley
Mental Fitness Expert, Author and Bootcamp CO-Producer
Mark Divine
New York Times Bestselling Author, Navy SEAL Commander (Ret.)
Jessica McDonald
2019 Women's World Cup Soccer Champion, Founder, Soccer Resilience
Marc Brackett, Ph.D.
Founder, Yale Center for Emotional Intelligence
When we are mentally fit we are at our best - whether it's how we show up in relationships, our ability to creatively find solutions, how we bounce back from adversity, or reaching for optimal performance. We've partnered with mental fitness expert and author Cara Bradley to gather a group of experts across disciplines and backgrounds which all bring a unique perspective to mental fitness. Understand the science and research of mental fitness and discover a mix of concepts and approaches across multiple domains. You'll be able to customize a personal mental fitness regime that works for your lifestyle and demands and take steps to make that plan a foundation for creating habits that will continue to support your mental fitness.
Cross-Train with
Lessons

 from world-experts across 

4 domains

  
Mind-Training
The Real Secrets to Mental Toughness


Mark Divine, NYT Bestselling Author, Navy SEAL Commander (Ret.)



Choose your State (Or the world will choose it for you)


Cara Bradley,  Mental Fitness Expert, Author

Embrace & Embody Your Inner Wisdom in Brain 3.0


Due Quach, Author of Calm Clarity, one of Fast Company's Best Business Books of 2018

Holistic Performance: Be at Your Best When it Matters Most


Dr. Mark A Campbell Ph.D., Owner, Campbell Performance, World Series Champion Mental Performance Coach

Developing Mental Fitness Through Preparedness, Resilience, Grit, and Compassion


Jon Macaskill, Meditation Teacher, Navy SEAL Commander (Ret.)

Training the Mind for Performance and Well-Being


Chad McGehee, Director of Meditation Training, University of Wisconsin Athletics

Calm is Your Superpower


Darnell McDonald, Former MLB Player and Mental Skills Coach

Building High Performance Habits


Sebastian Little, Performance Leadership Coach



Awareness and Attitude, the Components of Mindfulness


Jason Gant, Global Athletic Behavioral Health Coach



Movement
Training Our Brains For Everyday Trauma: Past Present & Future


Dr. Tracey Shors, Professor of Neuroscience, Rutgers



Mindful Movement and Constructive Rest


Larissa Hall Carlson, Ayurvedic Practitioner, Ayurvedic Yoga Specialist, & Mindfulness Educator

Making the World your Gym


Krista Stryker, Founder, 12-Minute Athlete & Author



How to Incorporate Mindfulness Into Your Workout


Johnny Gillespie, Founder, Balanced 

Athlete



A 5-Step Method for Habit Formation


Brandon Epstein, Mental Fitness Trainer, Co-Founder, Jump Rope Dudes
Resilience
Permission To Feel - Unlocking the power of Emotional Intelligence


Marc Brackett, Founding Director, Yale Center for Emotional Intelligence



The Power of Reframing Adversity


Jessica McDonald, 2019 Women's World Cup Soccer Champion, Founder, Soccer Resilience

Burnout: The Cost of High Performance


Dr. Sarah Sarkis, Psychologist & Performance Coach



Resonating Resilience from the Body Up


Ginny Whitelaw, CEO, Institute for Zen Leadership

Why Sleep Matters for Mental Fitness


Wendy Troxel, Ph.D., Sleep Psychologist, Author

Using Your Breath To Boost Resilience & Unlock Peak Performance


Tracy Alston, Host, Mental Fitness Matters National Radio Show

Atomic Focus: Harness the True Power of Your Brain with Simple Breathing Exercises


Patrick McKeown, Director of Education for OxygenAdvantage & Author
Connection
How the 5 layers of intrinsic motivation fuel flow


Steven Kotler, NYT Bestselling Author, Founder, the Flow Research Collective



How Contemplative Practice in Nature Supports Resilience


Mark Coleman, Meditation Teacher, Founder, Awake in the Wild

Intro to the Gut Brain Axis


Shawn Talbott, Ph.D., PsychoNutritionist & Author

Craving to Connect: Why Connection Matters for Mental Health & Fitness


Natalie Christine Dattilo, Ph.D., Psychologist & Mental Health Educator

How the Daily Practice of Gratitude Can Change Your Life


Scott McBride, Founder, ClearLight Meditation Institute

Eating the Rainbow for Mind and Body Wellness


Dr. Deanna Minich, Ph.D., Nutritionist, Researcher, and Author
Guided Practices and Exercises to Choose From
MIND-TRAINING
Spilling the TEA, Guided Meditation
3 Ups and 1 Down Retrospective Practice
Guided Box Breathing Practice
Focused Awareness Guided Meditation
Calm Clarity Compassion Meditation
Shifting Out of Overwhelm with Joy
Guided Meditation to Find Calm and Get In the Zone
Preparedness, Resilience, Grit, and Compassion Guided Meditation
MOVEMENT
Ten Movements in Ten Minutes
Everyday Anywhere Exercise Routine
Mental and Physical (MAP) Training, Focused Attention and Aerobic Exercise
Starting a jump rope fitness practice
Mindful Mini Movement Breaks and Constructive Rest Practice
Spinal 6 - Nourish your Brain by moving your Spine
RESILIENCE
Mood Meter - Exercise in Emotional Self-Awareness
Get in the Zone - a breath practice
21 Breath Salutation
4-2-4-1 Breathing Practice
How to Create a "Pillow Talk" Wind Down Routine
Mental Reset Practice
CONNECTION
Cultivating Gratitude Daily Practice
5 Easy Ways to Cultivate Connection
Nourishing Your Gut Brain Axis with Plants: The 30 Plant Challenge
Contemplative Awareness in Nature Practice

Food & Mood Tracker Tool
Download Audio, Video, and your own customizable Mental Fitness Program
 Download and Stream  
Stream content through our online learning management system
Download .MP3 or .MOV files to archive your favorite lessons or practices
Lessons from 25+ Experts
Learn from experts in neuroscience, performance psychology, and resilience
Includes lessons, interviews, and practices
Practices and Grid
Experience 25+ bite-sized practices across four domains of mental fitness
Choose the practices that meet your needs
Create a holistic mental fitness weekly routine with our program template
It's time to boost your Mental Fitness!
Cope with challenges more skillfully
Communicate with clarity and compassion
Reduce stress, frustration, and anxiety
Increase creativity, engagement, and performance
Create stronger relationships
Bounce back faster from hardship
Mental Fitness Upgrade Package
What's Included:
Access to all 25+ Mental Fitness Bootcamp Lessons and Interviews
25+ Mental Fitness Practices and Exercises
Customizable Mental Fitness Cross-Training Grid
Downloadable VIDEO & AUDIO of all sessions
Streaming multi-device access to all sessions through our online eLearning portal
30 Day 100% satisfaction guaranteed refund policy
Price:  $149
(ends Friday, November 19th)



We put a great deal of effort into packing incredible value into this content. We stand behind our work and unconditionally guarantee your satisfaction with your purchase. If you're not 100% satisfied simply email us within 30 days and we will give you a full refund.