Featured Resources
THE CASE FOR MINDFUL LEADERSHIP
What is the business case for Mindful Leadership? And how to get started.
View Report
CREATING A CULTURE OF MINDFULNESS@WORK
From @Work 2018. Leo Babauta founder of Zen Habits, shares his journey of how he transformed his life by changing one habit at a time, and how he used mindfulness to implement these changes. He discusses how he overcame fear, uncertainty, and discomfort with devotion and focusing on his purpose by conditioning new habits with mindfulness and love. He discusses how to use mindfulness to catch the triggers and discomforts, and how to stay balanced between pushing and giving up, to stay...
Last week, we asked our readers to share their favorite quotes with us on social media and they delivered. Here are some of those quotes, including the one we shared last week as a favorite of the team.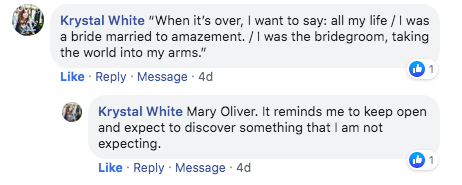 (This quote is from Mother Teresa)
Dear Friends,
The response to my previous coronavirus email was overwhelming. Thank you for all your messages, for the personal stories, and for the encouragement.  

Here is a quote that I shared at the first Mindful Leadership Summit in 2013 and has been a continued source of inspiration:
"Artist and leaders face similar challenges: to see reality as it is, without succumbing to despair, while imagining possibilities that go far beyond current reality, to have the...
By Becky Greiner
What is Coronavirus?
Of all the newsworthy events that have happened so far in the new year, there's one word that has stayed consistent in the media and is now at the center of a lot of daily coverage – Coronavirus, also known as COVID-19. While Coronaviruses are actually a large family of viruses that can range from the common cold to more severe diseases, this one in particular has been getting a lot of attention because it's a novel virus, meaning...
By Fleet Maull
During these times of great uncertainty and anxiety, I believe we need to begin a serious conversation about resilience. Resilience is simply no longer a luxury. It's becoming essential and even critical to our very survival… in much the same way that His Holiness the Dalai Lama, a global voice for peace and nonviolence, has said that compassion is not a luxury, that it's actually critical to our very survival in the highly complex, interdependent world in which we live...
By Ted Meissner
Recent developments in our global community have shown just how small the world has become. Just last week, the World Health Organization designated the COVID-19 infection as a pandemic (1). Countries update their response daily, and the Center for Disease Control has issued informational fact pages about the virus (2).  And unfortunately, misinformation is also making the rounds (3), as well-intentioned people share what they've heard without critical thinking and...
By Wendy Quan
Everyone knows about COVID-19. This is a time filled with volatility, fluidity, and uncertainty, followed by fear, worry, or anxiety. Now more than ever, it's important for people to learn mindfulness and meditation tools to deal with these stressors.

It is a perfect time to mobilize our skills as mindfulness facilitators to go online and open our reach to more people.  

If you have been trained as a mindfulness facilitator, you know the delight and relief people...
By Marc Brackett
When we are overly stressed and worried, like many of us have felt lately with threats like the coronavirus, it becomes even more difficult to regulate our emotions with effective strategies.

But what exactly is effective emotion regulation?

Emotion regulation is how we deal with the feelings we experience from moment to moment to have wellbeing, build positive relationships, and achieve desired goals. When we're feeling disappointed or joyful or anxious or...
By Breon Michel

Human relationships are primary in all of living. When the gusty winds blow and shake our lives, if we know that people care about us, we may bend with the wind… but we won't break. – Mr. Rogers

My favorite professor in the U Penn Positive Psychology program, the late, Christopher Peterson, closed his lecture by saying, "If we were to distill the research on happiness into one phrase, it would be: other people matter." I can still remember...