A 6-Month Certificate Program

Become a better leader. Transform your anxiety, fear, & stress into courage, ease, happiness, & resilience.
We are busier and more distracted than ever.
Science shows that our attention isn't focused on what we want it to be focused on for almost half of our lives. In order to make the changes we want to make in life and realize our goals, we need to set an intention and be able to pay attention to it for a consistent amount of time to make it a habit.
You may have already tried to make meaningful changes, but struggled to make them stick:
✔ IMPROVE FOCUS
✔ MANAGE STRESS WITH GRACE
✔ QUIET THE INNER CRITIC
✔ BECOME LESS REACTIVE 
✔ INSPIRE THOSE AROUND YOU
✔ LEAD WITH AUTHENTICITY
✔ MEDITATE
We start with excitement and the best of intentions, but inevitably fall back into old patterns that don't serve us.

Ways our struggles show up, often unconsciously:
✔
INTERNAL + EXTERNAL DISTRACTIONS
The science is clear: 
mindfulness is the key to solving these daily challenges, and helping us follow through on meaningful change.

Mindfulness is linked to:
✔
INCREASED ATTENTION AND FOCUS
✔
INCREASED IMMUNE FUNCTION
✔
EXPERIENCE OF FEELING CONNECTED
So how do we develop new habits and routines that help this change truly stick?
WHAT WE KNOW WORKS
3 essentials to living & leading mindfully
GUIDANCE
From those who have been there before, and can show you proven methods that work.
ACCOUNTABILITY
Support and accountability are essential to helping you maintain your momentum.
TIME
To establish the new habit, and really integrate your new learning into your day to day routines.
IN OTHER WORDS, YOU CAN'T DO IT ALONE!
The X-Factor
15 Years+ of research has highlighted that in order to sustain positive brain changes, we need: sustained commitment, mentor + peer support, and experiential integration.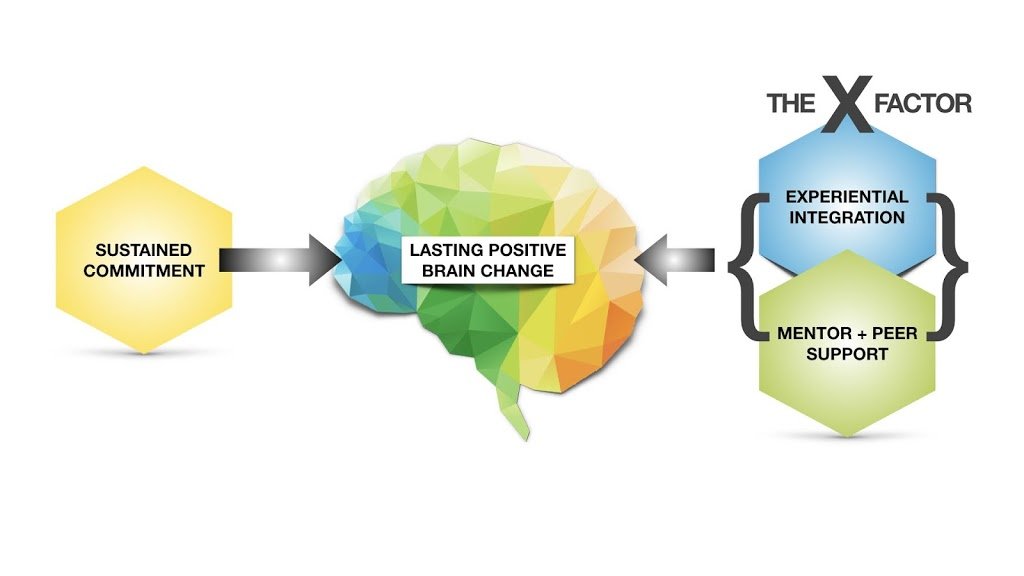 Introducing


A 6-month course to help you master the skill of Mindful Living for Leaders
So you can live & lead with greater purpose, courage, ease, and happiness.


A Course in Mindful Living for Leaders is a unique program that offers a step-by-step, progressive curriculum where you work on learning and integrating mindfulness practices. Mindful Leader and Dr. Elisha Goldstein have teamed up to create this unique offering. Based on Dr. Goldstein's proven program each section features five lessons: Learn, Practice, Deepen, Play, and Lead. Along with a robust self paced modular and interactive learning platform every month multiple live learning sessions will be hosted by Dr. Goldstien, Mo Edjlali, and Gayle Van Gils. You'll have your dedicated coaches, peer mentors, and a community to help keep you accountable and supported. You'll make new lifelong friends and allies. 
This course has been created for Leaders. To qualify you must fit one of the following criteria: 
Lead a team or organization

Work as a leadership consultant or coach

Work as an HR professional


Internal champion for mindfulness in your organization
In this 6-month program you will learn how to integrate a sustaining mindfulness practice into your life & leadership.
"I didn't anticipate the magnitude of positive impact on my daily life, relationships and mindfulness!"

SALLY S
"I am able to flow more easily with the ups-and-downs of life, connect with myself and others more honestly, and make more conscious, heart-centered decisions."

MICHELLE
Join the Waitlist for the next cohort
We will be in touch as we get closer to the launch of the next cohort.
What you get during the course
LEADERSHIP EXPERTS 
Mindful Leader Speakers discuss overcoming obstacles, reducing anxiety, improving relationships, increasing focus, and more.
ROBUST CURRICULUM
Build mind strength, calm, focus, joy, and energy with a bi-weekly curriculum designed to give you time to learn, practice, and integrate.
COMMUNITY OF LEADERS
Surround yourself with fellow mindful leaders so you can connect and be supported as you take your life & leadership to the next level.
PERSONALIZED COACHING
1:1 access via chat and live virtual group coaching with a small and intimate group to give you the support to make real change.
LIVE MONTHLY EVENTS
Monthly live calls with Dr. Elisha Goldstein, Mo Edjlali, & Gayle Van Gils, where you can ask questions, and reflect on your journey alongside others.
RESOURCES
Research-driven educational and inspirational on-demand video presentations per month.
ACCOUNTABILITY
Exclusive access to a community of past graduates and peers keep you accountable with the energy and support you need to thrive.
VARIETY
Download guided meditations of varying length to fit your needs and lifestyle.
MOBILE APP
Take your learning, meditations, and support network wherever you go using the mobile app.
CONTINUING EDUCATION CREDITS
18.5 CE for psychotherapists, social workers, & nurses.
Month by Month
MONTH 1
Learn how to relax your nervous system

Learn about the science of happiness and play to set the foundation for optimal learning and integration of the program.
Practice meditations to relax your nervous system, and create a sense of ease and balance as a fundamental skill. 
Deepen your ability to relax-on-demand in daily life, while practicing overcoming upcoming obstacles that get in your way.
Play with your environment to create a space that inspires you to live in the way that supports your happiness and well-being.
Lead with an awakened heart and learn how to cultivate presence, confidence and compassion.


MONTH 3
Learn to trust yourself and others

Learn about the latest science of self-compassion, emotional resilience and forgiveness.
Practice meditations for self-soothing, self-connection and self-compassion.
Deepen and nurture the kind voice inside your head and understand your needs for emotional balance, resilience and happiness.
Play with integrating self-compassion breaks for daily balance, so that you can build your muscle of courage, and open up possibilities in your life.
Lead with the art of mindful connection and develop a better understanding of diversity & leadership. 
MONTH 5
Learn to connect with yourself + community

Learn the science and practice of purpose, connection and deep compassion.
Practice meditations for loving-kindness and deep compassion to inspire connection, overcome fear and heal relational difficulties and challenges.
Deepen your perspective on your current relationships and begin to curate your social circles to inspire action for your own health and happiness.
Play with being social, cooking with compassion and having fun.
Lead with heightened awareness for resolving conflict and breaking down unconscious bias.


MONTH 2
Learn how to increase your focus

Learn how to break bad habits and use the power of neuroscience for self-reliance.
Practice meditations to refine your focus and cultivate stability of mind.
Deepen your ability to get perspective on negative thinking, and shift to nourishing from depleting.
Play more with mindful movement to complement your sitting practice, so that you can nourish yourself and bring your body to life.
Lead with the 12 Competencies of Emotional Intelligence and learn how
neuroscience can help you hack your brain. 


MONTH 4
Learn to savor life and deepen joy

Learn the science of positive emotions (gratitude, joy, and rest) and simple ways for making meaningful connections in relationships.
Practice meditations to enhance appreciation, gratitude and joy.
Deepen the experience of gratitude in daily life and get better at automatically seeing the good at home and work.
Play with indulging and experiencing the joy and healing from the earth.
Lead from a place of strengthened & integrated consciousness, and learn how to give without giving too much of yourself.


MONTH 6
Learn how to balance and integrate

Learn about the science of mindset so you can master resiliency for long term success.
Practice meditations to live in a higher level of self-awareness and have fun with possibilities.
Deepen your level of reflection to achieve greater sustainable change.
Play with the reality of impermanence and poetry.
Lead with resilience and learn how to apply mindfulness for transformation of the whole system.



DR. ELISHA GOLDSTEIN
Elisha is a psychologist, co-founder of The Center for Mindful Living, co-author of A Mindfulness-Based Stress Reduction Workbook, and the creator of the Mindfulness at Work™ program run by Aetna and hundreds of other organizations.
MO EDJLALI
Mo Edjlali is the President of Mindful Leader, whose mission is to foster the advancement of mindfulness and compassion in the workplace. 
GAYLE VAN GILS
Gayle is the founder of Transform Your Culture and the author of Happier at Work. She has an MBA from the Anderson School at UCLA, and is a certified instructor of Search Inside Yourself. 
Bonus Sessions with 12 Mindful Leader Speakers
DR. JUDSON BREWER
DUE QUACH
DANIEL GOLEMAN
TARA BRACH
WENDY PALMER
RUTH KING
NIPUN MEHTA
SHARON SALZBERG
JIM DETHMER
OTTO SCHARMER
EMILIYA ZHIVOTOVSKAYA
DR. DAN SIEGEL

Curious to hear from your course leaders?
Click here to access a LIVE Question & Response featuring Dr. Elisha Goldstein, Mo Edjlali, & Gayle Van Gils.
Learn more about the course and discover the answers to questions from prospective students. 
"The interweaving of theory and practice with real life, with others in a virtual community, with others live online… it all came together for me in a powerful way. Elisha's tender and consistent presence, the loving faculty, and the support of so many… I can't thank you all enough for guiding me through this profound experience."
CHARLIE
"A remarkably constructed course. Very thoughtfully designed with a really nice flow. I feel as if I am watching a cinema without knowing what will come next – so engaging and stimulative."
LATHA
"This course has changed and saved my life in so many ways!"
STEPHANY
Join the Waitlist for the next cohort
We will be in touch as we get closer to the launch of the next cohort.
To give everyone the personal care and attention they need, we limit the size of the cohort. You'll get the most inspiring community, mentors and world class coaches — with a time-tested 6 month curriculum with practices, lessons, and meditations — for about $5 a day. You'll finally get the strengths, habits, and relationships to make the changes you want to make in your life and make them lasting.
32+
Combined Years Teaching
*Number of students who completed the previous version of A Course in Mindful Living
Frequently Asked Questions
Why did we create A Course in Mindful Living for Leaders?
In studying the research and the world's wisdom traditions, and through his own extensive teaching, Elisha Goldstein, PhD has identified that there is an "x" factor that helps sustain positive brain change, allowing a much deeper integration of mindfulness training and practice so that it changes from a concept or fleeting experience to a way of being. In A Course in Mindful Living for Leaders, we have created what he plans to be the Gold Standard in Online Mindfulness Training.
Why is the course so effective?
This unique coaching program offers a step-by-step curriculum where you'll work on consistently integrating mindfulness practice into your daily life. You'll be supported by Elisha, two dedicated coaches Mo & Gayle, and a mindful community to help with accountability, so that by the time you complete the training, you'll have developed a truly self-sustaining mindfulness practice.
Why do we need the course?
Other online mindfulness training programs fall short on the integration step with the result that the benefits from training are short-lived. This course is a game changer – you'll take what you've learned off the cushion into your life, reaping the benefits for months and years to come.
When does this course start and end?
A Course in Mindful Living for Leaders starts on Monday, February 4th and ends in August of 2019. 
Who is this program for?
This course has been created for Leaders. To qualify you must fit one of the following criteria: 
Lead a team or organization
Work as a leadership consultant or coach
Work as an HR professional
Internal champion for mindfulness in your organization
What meditation experience level is recommended and/or necessary to take this course?
This program is designed for all levels, so it won't be too basic or too advanced for any participants. Perhaps you're new to the concept of mindfulness, you've read a few books on the subject, you've taken some mindfulness-based 8-week course, or you practice mindfulness every day – whatever your background, we invite you to join us in solidifying the concepts and practice of mindfulness in your everyday life.
How much time does the course take?
You should plan about 1-3 hours per week to attend the calls and work through the material. The good news is that you can work through it all on your own time. The content is on-demand, so if you miss a live session, you can view a recording afterward. You can and should go at your own pace as you work through the activities that are posted every 2 weeks. Some of them are super fun – like posting an audio track that inspired you that week, or creating or redesigning your meditation space. How long you spend on that kind of stuff is up to you!
Does the course have a set schedule or is it self-paced?
Every two weeks a new part of the course will "unlock." This will include a new teaching, meditation, informal integration practice, and experiential activities to be done at your own pace during that time period. At the beginning each month, there is a live kick-off Q&R webinar with Elisha. This will be recorded in the event that you can't attend a session. You'll also have the option to send in questions in advance. Twice a month, you will meet online with your coaches at a time that they'll designate (usually a weeknight evening). This will also be recorded in the event that the time doesn't work for you. You'll also have the option to send in questions in advance. The intention here is to build a really supportive environment to facilitate optimal integration of the material. The degree of support that you need is up to you and may even change as you progress through the course.
Will I get to ask questions?
Yes, the course in interactive! Participants will be able to ask questions during the live online classes, small group coaching sessions and in the online classroom.
Is the course psychotherapy?
No, it is not. This is an educational program and not treatment for any physical or mental health condition. Participants take responsibility for their own experience in the program. Elisha, Mindful Leader, and the Mindful Living Faculty do not have a professional or therapist relationship with participants.
Does the certificate of completion mean that we have permission to teach what we learn in our own mindfulness/ meditation classes if we are qualified meditation teachers?
This is a great question! The course is for people's personal transformation and not a professional teacher training course. However, we have a lot of therapists, educators and people in business who take what they've learned and integrate it into their work. Although we provide the high level touch (course material, live coaching, and a peer-based accountability community) like a certification course, this course is not intended as a teacher training.
What makes the course different than other mindfulness trainings, books, and videos on YouTube?
There are two major distinctions that make A Course In Mindful Living for Leaders the most dynamic, integrative, and supportive program online today. The first distinction is that this course is offered over a 6-month period. Mindfulness skills build gradually – each month a new theme is introduced in a step-by-step progressive curriculum that allows you to build on the skills that you're developing over time for a much deeper integration of the methods. The second difference is that this online course gives participants the high-touch support that's essential for the real integration of these methods into daily life. The course offers a highly enriched learning environment that includes biweekly live training sessions with Elisha, monthly group coaching sessions, and a thriving and super-engaged online community. This is all in addition to the on-demand experiential practices, talks, guided meditations, written teachings, and bonus interviews with guest experts. The course also provides ample opportunities to ask questions and get specific about how to integrate mindfulness into your life.
Do I have to participate in the "social" aspect of the course?
There's no requirement or need to keep up with the online community. The core elements of the course are: monthly Q&R sessions with Elisha, monthly coaching group and the course curriculum, that you'll do at your own pace. Most importantly, the program has been created so you can engage it in the way that works best for you.
Are there any risks in this program?
This is ultimately a program in learning to take care of your mind and body in the most powerful way. A Course in Mindful Living for Leaders will include powerful subjects like mindfulness, self-compassion/compassion, gratitude, and acceptance. As with any personal growth work, psychological material may get stirred up for you that is uncomfortable. Please engage in A Course in Mindful Living for Leaders at a pace and a depth that feels good to you. And if need be, please reach out to professional help if that would serve you.
Does the course include support for individuals?
Yes, in addition to the live online classes with Elisha, you will also receive support that includes coaching and monthly peer mentor sessions.
What topics are covered in the course?
Each month our learning and practice will be focused on a different topic. Month 1: RELAX Month 2: FOCUS Month 3: TRUST Month 4: SAVOR Month 5: CONNECT Month 6: BALANCE
How is the program organized?
Each month offers a live training session with Elisha and a live coaching session with Mo & Gayle. To support what's covered in the live sessions, the program includes pre-recorded video, audio, and written content delivered online and available on-demand. The materials include guided meditations, didactic teachings and interactive discussions. Participants will also have the option to participate in the online Mindful Living & Leading community too.
Can I download materials to my own computer?
Yes, you will be able to download audio meditations from Elisha. All content will be archived in the online classroom so you can stream on the go.
How long can I access A Course in Mindful Living for Leaders materials?
You will have one year access to A Course in Mindful Living for Leaders + Community.
Do I need any special technology?
You can view course content from any recently updated web browser or mobile device with an internet connection. For the Live Q&Rs and Live Coaching sessions, you may also need a telephone to call in and participate if you don't want to use your computer's audio. To have access anywhere, we recommend downloading the A Course in Mindful Living for Leaders app to your mobile device, details on downloading the app will be provided to participants.
What does the program cost?
The retail price of the coaching program is $1297. This includes the entire program: Elisha's live events, access to 1:1 coaching, monthly coaching sessions, and the 6 month curriculum with practices, lessons, and meditations, plus additional bonus resources. The course is offered a couple of times a year and during each launch period, we will offer special promotional pricing.
Does A Course in Mindful Living for Leaders require a lot of reading?
The focus on the program is the live sessions and experiential practices, rather than extensive readings. Each month there will be short readings, videos and practices provided online. There will also be short emails to help keep participants engaged and on track.
Are there any suggested readings?
We will be providing reading and resources throughout the course. There is also a Book of the Month Club built into the program to help support your learning.
What if I can't make the live calls?
The live classes with Elisha be recorded and will be posted in the online classroom following the live event.
What if I will be traveling or away during part of the course?
All of the monthly Live Q&R sessions with Elisha and the live coaching sessions are recorded and shared within a few days so you can watch them at a time that works for you. The videos, guided meditations, activities, and lessons are all on-demand so you can work at your own pace. You can mark your progress within the course so it's easy to pick up where you left off. Also, the course content and recordings will continue to be available after the course has concluded. Prior to leaving for your trip, we recommend that you download the audio meditations to your mobile device, if possible. This will allow you to continue your meditation practice no matter where you are in the world, even if you don't have internet access.
How about participating from around the world?
Elisha hosts a monthly Live Q&R each month. You can view the schedule within the FAQs (look for the FAQ "When are the Q&R Webinars with Elisha?"). Each event listing will include a link to a handy tool so you can see what the time will be in your local time zone. All of the Live Q&R sessions are also recorded and posted within a few days so if you're unable to join the session live, you can watch recording at a time that is convenient for you. The coaching sessions are also recorded and archived in case you can't join live. The videos, guided meditations, activities, and lessons are all on-demand so you can access them anywhere, anytime as long as you have an internet connection.
Is there a money-back guarantee or refund policy?
Absolutely. With our 30 day money-back guarantee, you can test out the first module of the course without any risk. Watch the live calls, connect with others in the private community, and put the content into action. If you don't feel that we've delivered on our promise for this program, then our team will happily refund 100% of your money. We just ask for two things: The first is that you give the program a good shot. The second is that we want to hear your feedback. This way, we can continue to improve the program and make it better in the future. If you're not happy, then it wasn't a good fit; however, we're confident you'll love the program and really enjoy the experience.
Do you offer group discounts?
Yes, if you have a group of people interested in taking the course you can contact us for a discount. 
Do you offer scholarships?
The course costs $1297 which equates to about $7 a day. The scholarships awarded are to help empower folks working in social impact or community service for non-profits; however, anyone with financial need is encouraged to apply. Each financial assistance request is assessed in terms of financial need and funds availability. If you are interested, please email us. 
Join the Waitlist for the next cohort
We will be in touch as we get closer to the launch of the next cohort.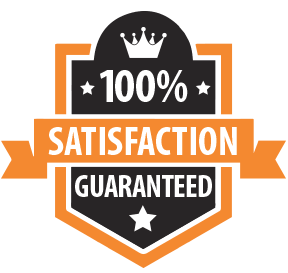 We put a great deal of effort into packing incredible value into this Course. We stand behind our work and unconditionally guarantee your satisfaction with your purchase. If you're not 100% satisfied simply email us within 30 days and we will give you a full refund.